Baffin Bay Guide Services
www.baffinbayguideservices.com
Captain Les Cobb
FISHING THE HEART OF BAFFIN BAY



Baffin Bay Waypoints for sale...Over 1000 Rocks Marked

Trout and Redfish Mounts for Sale

For More Information, Call or Email
Capt. Les Cobb 361-548-5511 - baffin@rivnet.com




Photos From Recent Fishing Trips...Click Here
New......Check out our Video... Click here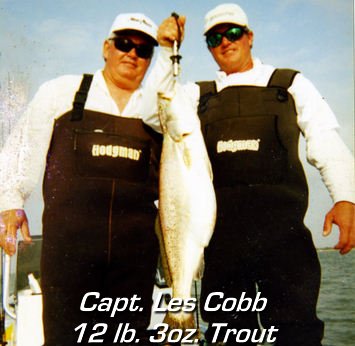 WELCOME TO Baffin Bay Guide Services!

Come and fish Baffin Bay the easy way from the back of Baffin. No long boat rides out of Corpus Christi. Captain Les has many years of experience fishing Baffin Bay. Come and let Capt. Les Cobb make your trip to Baffin Bay fun, easy, and enjoyable.

Over the years Captain Les Cobb has been in most newspapers and magazines along the Gulf Coast including The Houston Chronicle, Corpus Christi Caller Times, San Antonio Express, Gulf Coast Connections, Salty Angler, Salt Water News, Texas Outdoors, Allen Warren Outdoors (TV), Texas Coastal Fisherman.

Baffin Bay Guide Services
Capt. Les Cobb
361-548-5511
U.S. Coast Guard and Texas Parks and Wildlife licensed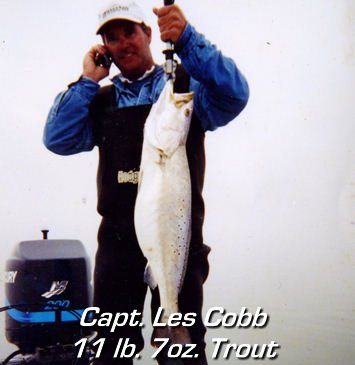 There are several hunting and fishing lodges located here in the back of Baffin Bay. These lodges are located on the water and all have lighted fishing piers. If you choose to stay at one of these lodges, I will pick you up at the end of that lodges lighted pier at a designated time in the morning and return you there when we are done fishing that day, where I will also fillet and package your catch for that day. If staying at one of these lodges is not your preference there is also a motel in Riviera located on Hwy. 77 along with several others located in Kingsville a 20 minute drive from the boat ramp. If you choose to stay at one of the hotels we will meet at one of the 2 boat ramps located here in the back of Baffin Bay and fillet and package your fish at my boat barn.

We have 2 great seafood restaurants located right on Baffin Bay. The world famous King's Inn Restaurant and The Baffin Bay Café which is also quickly gaining a very good reputation for itself.


Captain Cobb fishes in a 24 foot 8 inch Transport XLR8 powered by a 250 H.P. Evinrude E-Tech.



- Bay Fishing Trip Rates -

Artificial Lure trips:
$600 for 2 people,
$50 for each additional up to 4 people

Live bait trips:
$700 for 2 people,
$750 for 3 people,
$800 for 4 people

NOTE: Prices can be seasonal and subject to change... Please call to confirm current pricing and to book your fishing trip.


Fin 'n Feather Trips:
Fish in the morning, Hunt doves in the afternoon.
Hunting milo fields and sunflower fields along with other natural fields; don't forget we are now included in the special White Wing zone.
Call for more details on these trips.

$250 Deposit is required and is refundable if I am given enough notice of a cancellation.



Cancellation Policy: Cancellation due to weather your deposit is refundable or we can try to book you on another open date. Any other cancellation without good reason your deposit is subject to forfeit. We accept cash and checks only, sorry no credit cards.


We now accept Visa, Master Card, Discover Card, and American Express.




Rods and reels ( I use Waterloo Rods and Shimano reels ) If you have your own, you are welcome to bring it.
Tackle and bait ( Live Bait if needed )
Ice Chest to put your food and drinks in, you can also bring your own ice chest and we can put it on the boat.
Glass bottles are O.K. with me, I know that some people prefer their beverages in a bottle, bottled beer for example, if you do bring glass bottles then you will have to bring them in your own ice chest please.



Sunglasses & sunscreen


Hat


Rain Gear


Camera


Bottled Water


Ice Chest to take your fish home in


Children under 13 years of age are required by law to where a U.S. Coast approved personal flotation device ( life jacket ) while the boat is underway, so please bring the appropriate size life jacket for them.


Wade fishing trips - You will need to bring your wade fishing equipment ( waders,wade belt, wade jacket).




Baffin Bay Guide Services
Captain Les Cobb
681 E CR 2330
Riviera, Tx. 78379
361-548-5511
baffin@rivnet.com